Sinking speed boat crew rescued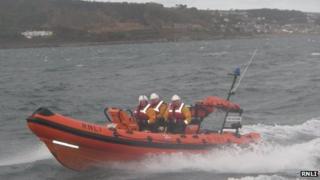 Two men have been rescued from a sinking speed boat off the Cornish coast.
The men raised the alarm when their 19ft (5.8m) boat began to take on water east of Newlyn.
The RNLI's Penlee inshore lifeboat arrived on scene moments before the boat sank.
Falmouth Coastguard said the "pretty lucky" men, both in their 20s and local to the South West, were shaken, but unharmed.
"The sea is really quite cold at this time of year - March and April are probably the coldest months for water temperature - so they were pretty lucky," a Maritime and Coastguard Agency spokesman said.
Patrick Harvey, the coxswain of the Penlee Severn-class lifeboat, said the men, who were wearing lifejackets, had done the right thing by alerting the coastguard when the boat started taking on water.
"If, once everyone is safe, we can help salvage the vessel we will, but unfortunately in this instance, it was under the water before we could do anything," he said.