Devon and Cornwall food bank demand 'up 170%'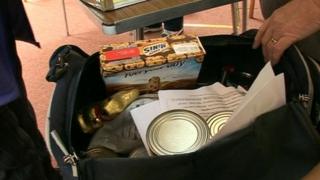 Demand for food bank assistance in Devon and Cornwall has more than doubled, according to one of the biggest providers.
The Trussell Trust, a national Christian charity, currently operates 16 food banks across the counties.
It said rising food and fuel costs, static income and unemployment had contributed to the increase.
Working with local churches and communities, the trust said its aim was to open a food bank in every town.
In Bodmin, Cornwall, a drop-in food bank hosted by the town's Christian Fellowship, which has been running once a week, has taken the decision to double the number of weekly sessions to keep up with demand.
Jacqui White, a project manager for the trust's Wadebridge branch, said it was an "ongoing" problem for people living in an area with low incomes, high rents and seasonal work.
"It's a difficult time for everybody - even a lot of people who are in work are just not making ends meet," she told BBC News.
"About 90% of the time they can, but then if they get a big bill in for something - a boiler that's broken down or a car that's broken down - they just can't meet it."
Ms White said since it began operating almost four years ago, demand had doubled year-on-year.
Food for the banks are donated by local people and given out by volunteers in exchange for a voucher, which clients can be given by local agencies such as doctors or schools.
Nationally, the Trussell Trust said almost 350,000 people had received at least three days emergency food from its food banks during the last 12 months - about 100,000 more than anticipated and nearly triple the number helped in 2011-12.