John Pollard appointed leader of Cornwall Council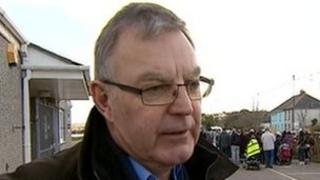 Independent councillor John Pollard has been elected the new leader of Cornwall Council.
The 62-year-old's appointment comes as a result of a new Liberal Democrat-independent coalition.
Liberal Democrat Jeremy Rowe is deputy leader, and the chair and vice chair of the unitary authority are independent John Wood and Lib Dem Ann Kerridge.
The remaining cabinet posts have been shared evenly between independents and Lib Dems.
The cabinet includes independents Bert Biscoe, Julian German, Andrew Wallis and Judith Haycock.
Lib Dems Geoff Brown, Edwina Hannaford, Alex Folkes and Adam Paynter are also on the ruling body of the authority.
There are 36 Lib Dems and 36 independents out of 123 seats.
The Tories, now the official opposition, are the third largest group with 30.
Talks about a coalition were first raised after council members were elected on 3 May and no group could gain overall control.
Lib Dems and independents said they were to form a ruling coalition last week because of a lack of response from the Conservatives.
The previous administration had been Conservative-independent led.
Others on the council include six Labour members, six from UKIP, four from Mebyon Kernow, two Labour and Co-operative Party members, two councillors declared as "unspecified", and one Green.