New Cornwall Council leader calls for unity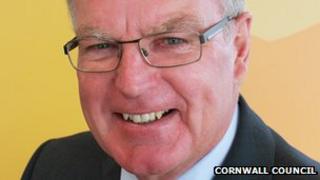 The new leader of Cornwall Council has called for a "can do" attitude as the new administration starts work.
Independent councillor John Pollard said he wanted everyone on the council to be positive "despite tight finances".
The Independents and Liberal Democrats have formed a coalition - with the Conservatives as the main opposition.
Councillor Fiona Ferguson, leader of the Tories, said they would be holding the new administration to account.
'Critical friends'
Mr Pollard said: "I want to draw all the groups into the umbrella.
"We need a very clear process where we are scrutinised completely. We want critical friends so we can work together.
"The top of the list is to create a strong cabinet, make sure it is a workable organisation. We need a strong economy in Cornwall and to look at jobs, and homes."
There had been hopes of a rainbow alliance at Cornwall Council - with all groups working together.
But Labour and Mebyon Kernow did not take up an offer of a cabinet seat and the Conservative group, the third largest with 30 councillors, said they felt the deal on offer was unfair.
The previous administration had been Conservative-independent led.
Mrs Ferguson said: "Budgetary issues are something we are keen to look at.
"I would hope they are going to go for an early budget to get us in a good position to deal with the challenges we have to face."
Mr Pollard acknowledged budgetary pressures but he urged council members to be positive, saying he did not want to be part of a council which "moans and groans" because of government cuts.