Newquay Airport numbers fall for fifth year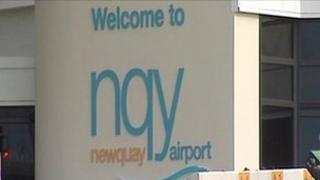 Passengers numbers have fallen for a fifth year in a row, according to the managing director of Newquay Airport.
More than £3m was spent running the airport last year, serving 174,000 passengers - 25,000 less than 2011.
Al Titterington, the airport's managing director, said the numbers would improve this year with new routes.
Adam Paynter, the new Cornwall Council portfolio holder for partnerships, said the airport was "doing its job".
In 2008, 431,000 passengers used the airport. The following year that figure had dropped to 347,000 and numbers have continued to fall.
Air South West pulled out of Newquay's airport in September 2011. The airline had been responsible for 45% of the passengers at the time.
BMI Baby which ran regular services to and from Cornwall went out of business last year.
Mr Titterington said: "Air South West was operating to 11 destinations at their peak. I don't believe the airport is doing anything wrong.
He said the airport was in "discussions with more airlines to introduce more routes."
"For the financial year of 2013/14 passengers numbers will increase to a forecast of about 186,000 and will grow year on year. We're pretty confident we'll be around that," he said.
The subsidy from Cornwall Council, which helps to support the day-to-day operating costs of the airport, has been "steadily decreasing".
Mr Paynter said: "We think that the airport is doing its job. We're working in a very difficult climate at the moment.
"It's a very challenging time at the moment. We know we're not suddenly going to be able to turn the airport around and make a large profit, but it does support lots of jobs in Cornwall."