Launceston oak trees face Morrisons supermarket threat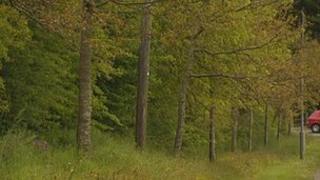 An avenue of oak trees planted to mark the millennium could be partly destroyed to make way for a supermarket entrance.
Protesters in Launceston, Cornwall, say the "wonderful green space" will be destroyed.
Developer Wessex Investors, which wants to build a Morrisons and up to 275 homes in the Pennygillam area, says there is no other access.
Cornwall Council, which owns the land, is considering the application.
Wessex Investors says it will have to remove five of the trees and they will replant more trees nearby. It also claims the development will create 400 jobs.
But Margaret Wills, chair of Launceston in Bloom, said: "It will destroy the avenue, we just don't want our trees messed up."
Money for the trees was raised by local schoolchildren and fundraising events.
Protesters have collected 2,000 signatures so far against the plans which will be considered by the council's strategic planning committee.
Mrs Wills said: "When these trees were planted they were six year-old trees, they weren't cheap.
"They have matured quite nicely so they're about 20 years old now.
"You don't come along and mess around with 20-year-old oak trees."