Bed blocking increases at Cornwall hospitals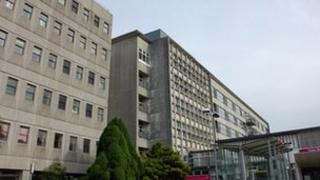 Bed blocking is putting increasing pressure on the Royal Cornwall Hospital Trust, a report to the board says.
In April an average of 31 patients a day were waiting to be discharged from the trust's three hospitals, compared with March's figure of 24 which was the highest for three years.
Bed blocking occurs when a patient is ready to leave hospital but there is no care available elsewhere.
The report says the situation is showing signs of improving this month.
'Taxing few months'
Earlier this year problems with the Norovirus saw the trust declare an internal major incident as it found it increasingly difficult to deal with emergency admissions promptly.
Across April nearly 200 ambulances had to wait for more than 30 minutes before handing their patients over to emergency department staff and 93 operations were cancelled at short notice.
Dr Duncan Browne, divisional director for emergency medicine, said: "It's been a quite taxing few months. We have seen some improvement over the last few weeks, but it remains a difficult situation with regard to capacity."
He said a "big problem" was the increasing age of patients and the complexity of their conditions.
"They take longer in hospital to get better and it is more complex to discharge them because they have very differing needs," he said.
He said the answer was a "shared solution" with other agencies such as social services.
"We need to find ways to manage patients who don't need to be in hospital. We continue to work with our partners but it's an ongoing problem with the ageing population."
He said the trust was "making contingencies" to relieve pressure on the emergency department.
"We are expanding the emergency department and we are reviewing our staffing levels," he said.