Bude's sea pool receives £15,000 grant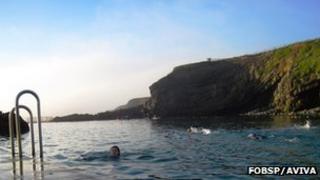 A sea pool run by volunteers in north Cornwall has been awarded £15,000 from a community fund.
Bude's tidal swimming pool was short-listed as one of the 25 finalists, and was awarded the top place in its category.
The Friends of Bude Sea Pool (FoBSP) funds the attraction's annual running costs of £30,000 from membership and donations.
FoBSP is now fund-raising to pay for repairs to the pool's sea wall.
Stephen Rosser from FoBSP, said: "This year we've fitted a new water gate, dredged the pool interior, upgraded a walkway, removed dangerous railings and repaired a leak in the pool-side wall - and that cost £30,000.
"We expect to have to spend the same on the sea wall renovation next year, so grants like these are absolutely vital to ensure that the pool stays open."
The £15,000 funding was awarded by the Aviva Broker Community Fund after a nomination by a Bude-based insurance agent.
Bude Sea Pool was run by Cornwall Council, but funding was withdrawn leading to fears in Bude that the pool would close.
The Friends of Bude Sea Pool was formed in 2011 to secure its future.
Responsibility for the pool was formally passed to the FoBSP in 2012.
The Sea Pool at Bude was created in the 1930s to provide safe swimming at Summerleaze beach.