Cornwall's Ida Pollock has penned 123 books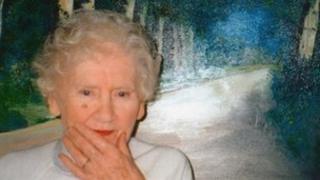 One of the oldest living writers of romantic fiction is hoping to publish two new novels.
Ida Pollock, 105, from Lanreath in Cornwall, has written 123 books, many of them for Mills & Boon.
The Romantic Novelists' Association recently awarded its oldest member the title of honorary vice-president.
Mrs Pollock said modern romantic novels were "quite different today, I don't suppose I'd recognise them."
The association said she had recently found an agent for two unpublished "Regency romances" and was hoping they would be published "in the not too distant future".
Mrs Pollock was born in 1908 and began writing short stories after inheriting a love of reading from her mother.
She told BBC Radio Cornwall: "When I was about 15, my mother provided me with reading material and I got to love the books.
"Then I thought I'd write myself and she bought me a typewriter and I began writing novels.
"Writing was the thing I loved, long before I had any romance. It was an instinctive part of life."
Her first novel "Coloured Palanquins and Coloured Lanterns", set in China, was published in the mid 1930s under the name Joan Allen.
She said she could still remember the first line of the novel: "The towers of Ravenshawk soared up towards the sky..."
But Mrs Pollock said her family were not supportive of her chosen career.
"I don't think they understood me at all, why should I be thinking about things like that when I could be leading an ordinary life?" she said.
Mrs Pollock went on to write 123 novels under 11 different names, including Anita Charles, Averil Ives and Marguerite Bell.
'A career for life'
A prolific author, at one time publishing 40 books in just five years, she said publishers were keen for her novels to have plots involving "a rather hard-up young woman and a rich overlord."
Of her work for Mills and Boon she said: "I was their main writer, I wrote for them for years."
Mrs Pollock was one of the founding members of the Romantic Novelists' Association in 1960.
Annie Ashurst, the current chairman, said: "A writing career is a career for life, as Ida has proved.
"She has lived for her writing and we are all very proud of her and are very much looking forward to reading the next two [novels]."
Mrs Pollock said she had not had much time for reading in recent years but she still loved writing.
"It has been my obsession," she added.