South West Water £10,000 Perranporth sewage spill fine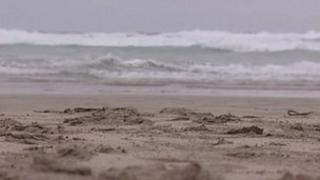 A water company has been ordered to pay nearly £12,000 after sewage polluted a stream near one of Cornwall's most popular surfing beaches.
Crude sewage was discharged into Bolingey stream, near Perranporth beach, on 26 June last year.
South West Water pleaded guilty at Truro Magistrates' Court to discharging a poisonous, noxious or polluting matter without a permit.
The company has apologised for the discharge.
The case against it was brought by the Environment Agency.
Second prosecution
South West Water owns and operates Station Road sewage pumping station, near Perranporth.
On the day in question staff discovered a mechanical failure had caused the "duty pump" to stop working.
The Environment Agency said this caused sewage to "back up" and flow into Bolingey stream for up to three hours before action was taken.
Andrew Blewitt, from the Environment Agency, said: "South West Water had sufficient advance warning through their alarm system and knowledge of a similar previous incident to put the necessary measures in place to mitigate these discharges occurring."
South West Water was fined £10,000 and ordered to pay £1,713 in costs.
It was the second time the company had been prosecuted for spills from the same pumping station.
As well as apologising, South West Water said: "We notified the local authority and the Environment Agency of the discharge.
"However, while we attempted to tanker sewage from Station Road the following morning, we were unable to keep up with the volumes passing through the pumping station.
"In the last year we have invested more than £60,000 in a new pump for each pumping station and equipment at Droskyn [another pumping station] which will enable us to lift the pumps without using a crane so we can deal with problems more quickly in future."