Royal Cornwall Show: Cornwall Farmers and council not attending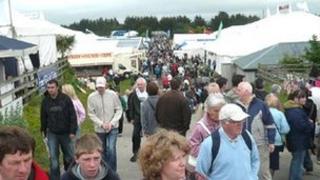 An organiser of the Royal Cornwall Show has said he is disappointed two of the biggest exhibitors will not be attending this year's event.
Show secretary Chris Riddle said it was "a great sadness" that Cornwall Farmers and Cornwall Council would not attend.
The council said it would not be at the show because of budget cuts and Cornwall Farmers said it planned to focus on its stores.
The three-day show has been held at the Royal Cornwall Showground since 1960.
'Fully sold out'
Chris Riddle, the secretary of the event, said: "Cornwall Farmers was our biggest single machinery exhibitor, very much a traditional part of the show, [but] business is changing for them.
"Cornwall Council, I can understand the issues with cutbacks, it's a shame and we very much hope they'll be back in future years.
"It has been a traditional part of the show, but things move on and no doubt they'll be back in the future."
He added their decisions not to attend had "certainly not hit the show in anyway" and it was "fully sold out and fully let".
In a statement Cornwall Farmers said it was refocusing its operations and had decided to "scale back" on its attendance and sponsorship of shows and events.
The firm added it felt it could "better support" its agricultural customers by "investing in the stores and therefore offering a better service".
In 2012, the annual show, which is held near Wadebridge, attracted 113,775 visitors.