Baby guide for Cornwall's first time fathers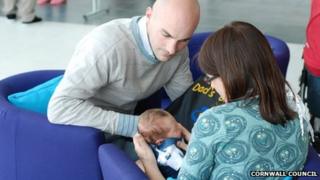 Fathers-to-be in Cornwall are to be advised on childcare basics such as how to hold a baby, change a nappy and cope without sleep.
The "Dad's Pack" will be available to all first-time fathers in the county through their health visitor.
It has been created with help from fathers who said there was not enough information for men on what to expect when having a baby.
The pack is part of a drive to involve men more in antenatal services.
As well as attending baby scans new fathers in Cornwall and the Isles of Scilly will also now be invited to the 28-35 week antenatal meeting, where they will be able to talk to health visitors about labour and caring for a newborn.
The pack will also include a nappy changing mat, feeding spoon and baby's bib, made from a Cornish rugby shirt.
Beth Benyon, from Public Health at Cornwall Council, said: "There's growing evidence of the importance of fathers taking an active role in the birth of their child and their early years.
"The dads we spoke to were very clear about what they wanted from their pack; they didn't just want another wordy leaflet.
"They told us they wanted a practical resource that would help them get to grips with the basics of caring for a baby and the realities of being a new parent."
David Sell, 31, from Tregony, became a father for the first time 11 days ago.
"As a new dad you can feel a bit overwhelmed with everything going on," he said.
He said the guide had useful advice on different ways to hold a baby.
His partner Rachel Hunt said: "The advice on breast feeding is good as dads don't think they're going to be useful but it's really difficult and having a partner there who's read about it, it's really useful to have that support."
The pilot project will be trialled for 12 months and then evaluated to decide whether to continue it.