'Original' Cornish chough 'killed by rival bird'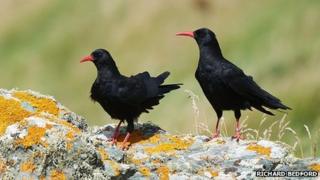 A male chough - one of the original pair which returned to Cornwall after a gap of more than 50 years - is thought to have been killed by a rival bird, said the RSPB.
The pair had raised 44 chicks at the Lizard since 2001.
A new younger bird is believed to have "ousted and probably killed the older male", said the RSPB's Claire Mucklow.
She added the rival had adopted the old male's chicks, which could be "new behaviour" for the species.
Ms Mucklow said normally a bird would try to kill any chicks that were not his.
She said: "The female, having invested so much time and energy in her new brood, has accepted this new male and together they are feeding her two chicks, which are around two weeks old."
The new bird was regularly seen with the Lizard pair, she added.
'End of an era'
Choughs are a member of the crow family with a red beak and legs and an excitable high-pitched "chi-ow" call, from which the bird gets its name.
After being absent from Cornwall for 54 years, the species returned 12 years ago.
Ms Mucklow said: "[It's] an end of an era, and the loss of a very special bird."
She added many of the original pair's young had also gone to breed, "securing a future for choughs in Cornwall".
The chough features on the official Cornwall coat of arms and the county is currently home to about 35 of the birds.