Disabled man 'devastated' over canary theft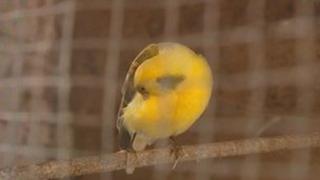 Thieves have broken into an aviary in mid Cornwall and stolen six canaries owned by a disabled and partially-blind man.
Bill Grainger, 64, from Landreath Place in St Blazey, had hand-reared the birds himself.
Mr Grainger's neighbours said the birds "were his life" and have bought him two new canaries for him to breed.
Devon and Cornwall Police have appealed to anyone with any information to contact the police.
The canaries had recently produced three chicks but after the birds were stolen, the chicks died overnight.
Mr Grainger's daughter Marnie said her father was "devastated that he can't see the birds anymore".
"He's partially blind and disabled so he would come out here to watch the birds. The canaries are very bright so he could see them flying around," she said.