Lanlivery Vintage Rally girl's death accidental, coroner rules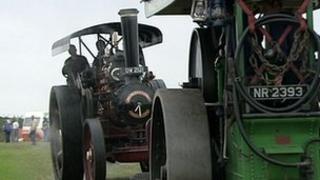 A young girl was crushed to death by an old Army vehicle at a Cornish steam rally, an inquest has heard.
Tayla Saunders, five, was hit by the slowly reversing 1940s Land Rover at the Lanlivery Vintage Rally, near Lostwithiel in Cornwall, in September.
Tayla, from Yarcombe, Devon, was distracted by a helter-skelter and stopped in the path of the vehicle. The driver did not see her.
Plymouth coroner Ian Arrow recorded a verdict of accidental death.
'Exciting distraction'
Tayla's grandmother, Margaret Dodson, who was on holiday from West Yorkshire at the time of the accident, told the hearing: "I heard the vehicle moving but on the grass she could not hear it.
"In a split-second, she was hit by the tow-bar which nudged her back and winded her. She went down."
She said the girl "was only little" and in the blind spot of driver Christopher Smith, who had checked to see if the area was clear before he reversed at low speed.
Mr Smith had been picking up two containers of water from a tap when the accident happened on 8 September.
He said he had seen Tayla but assumed she had run away from behind his vehicle.
"I was only creeping backwards," he said.
"She was not visible, I could not see her. I assumed she had run past me."
He said he felt his front wheel "go over something" and then saw Tayla lying in front of his vehicle and he immediately stopped.
Police investigated the incident and concluded Tayla was out of sight when she was hit by the vehicle.
A spokesman said: "She was preoccupied with an exciting distraction."
'No blame'
Her foster mother, Carol Thorne, said Tayla was "a lovely girl, full of character who loved playing outside".
Mrs Thorne called Tayla's death "devastating" but said it was "an accident in the true sense of the word and no blame should be put on the driver".
An air ambulance flew Tayla to Derriford Hospital in Plymouth, Devon, where she died from multiple injuries and suffered a cardiac arrest.
The inquest heard there were no defects with the 1940s Land Rover.