St Eval community asks for buildings purchase bid deadline extension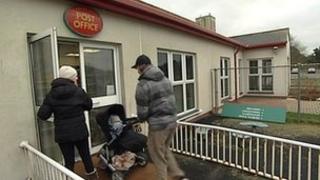 Campaigners in a north Cornwall hamlet fighting to save community facilities have asked for more time for a bid to buy military buildings they are in.
A shop, post office, hairdressers, nursery and community centre in St Eval are housed in buildings owned by the Ministry of Defence (MoD).
People behind the bid said they needed an extension to a six-month deadline to pass on Monday to finalise funding.
The MoD said it was still planning to proceed with the sale.
'Slow process'
The facilities were opened in January 2012 after two years of work from a local action forum to reach a deal with the MoD to use the buildings.
Now, under the new Localism Act, communities have a right to buy such assets. The law includes a six month grace period to get funding together.
Campaigners said they feared if the deadline was not extended, a developer might get in first and not protect the facilities.
Barbara Hough, director of the St Eval Community Action Forum, said if the buildings were lost, it would be the death knell for the 400-strong hamlet.
She said: "There wouldn't be anything for people here, and new people also wouldn't come here if there were no facilities."
Campaigner Julie Baker added that six months had not been long enough to get grants and funding in place.
She said: "The processes we need to go through to get a rubber stamp to show we have funding is slow."
The MoD said it had complied with the legal requirements in the Localism Act which allowed a six-month delay for the community to put forward a bid to purchase assets.
It said the period was coming to an end on 17 June, at which point it was to proceed with the sale of land and buildings.
Liberal Democrat MP Dan Rogerson said he had written to the MoD, calling for an extension to the deadline.
He added he hoped any developer would taken residents' concerns into consideration.
He said: "I think any proper development plan for the area has to respect community facilities."