Stonham young parents' unit in Penzance to stay open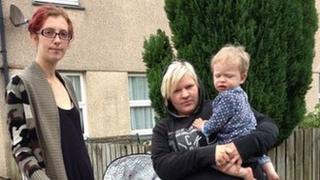 A young parents' residential unit in Penzance that was threatened with closure is to stay open, the charity which runs it has said.
Cornwall Council had been considering cutting funding for Stonham House in Penzance.
But Joanne Ballard, from Stonham, said its future had been secured following talks with the council.
Cornwall Council said it was "glad a way forward" had been found for the service to continue.
The accommodation at Stonham House is for parents aged between 16 and 25.
Each of the seven flats has its own kitchen, bathroom and living room and there is also a communal lounge, kitchen and garden.
It is run by Stonham, part of Home Group, on behalf of Cornwall Council.
'Thrilled'
Mrs Ballard said the charity was "delighted".
"We felt it right to inform residents of the Penzance service at the earliest opportunity the service could close, but we had always hoped we would be able to secure funding to keep the service in Penzance open," she said.
"We will now be able to continue to support young parents to help them give their children the best start in life."
Shauna Laird, one of the mothers living at Stonham House, had told the BBC before the council's decision that she was "worried and scared" at the prospect of having to move out.
She said the women were "all thrilled" at the news it was going to stay open.
"We didn't think they were going to manage it," she said.
Judith Haycock, Cornwall Council's cabinet member for Adult Care, Health and Wellbeing, said: "We have been in discussions with Stonham for some time.
"I am glad we have found a way forward which allows this service to continue."