Drugs raid on Isles of Scilly skipper death yacht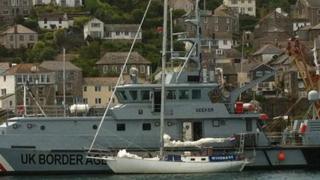 A man fell to his death from the mast of a stricken yacht while officials carried out a drugs raid on his ship.
The Border Force raided the Windrose on Monday after it was towed into the Isles of Scilly.
The victim, believed to be a 62-year-old Dutch national, fell from the ship's mast. He was airlifted to hospital in Truro but died later from his injuries.
The 11m (36ft) Windrose has been towed to Newlyn in Cornwall.
Skipper 'fatigued'
Border Force officers wearing rubber gloves have been removing items from the yacht's cabin.
The yacht had been towed to the Isles of Scilly on Sunday by the RNLI after the single-handed skipper reported he was suffering from fatigue and his boat's rigging was failing.
Devon and Cornwall Police has launched an investigation.
The Border Force said it was co-operating with the police investigation and had referred the incident to the Independent Police Complaints Commission (IPCC).
The IPCC, which investigates public bodies with police-like powers, said it would decide if a full investigation was necessary.