Ex Royal Cornwall Hospitals Trust boss fights for job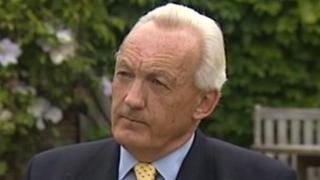 The former chairman of the Royal Cornwall Hospitals Trust, who quit over claims about his conduct, is taking legal action to be reinstated.
Martin Watts resigned after a complaint about him regarding the trust's dignity at work policy, said the trust.
Mr Watts said he had been the victim of an "injudicious judgment".
The NHS body that sets rules for trusts said an independent investigation had upheld a complaint from two members of staff.
The NHS Trust Development Authority (NTDA) said: "It should go without saying that we expect the very highest standards of behaviour from non-executives at all our NHS Trusts."
Mr Watts, who co-founded Olympus Sports, said his resignation was not an admission of guilt.
He said: "I resigned under pressure, I did not want the trust to go into meltdown through media.
"I will clear my name through the courts and prove that this report is totally flawed."
He added: "It is extremely regrettable that it has got to this stage.
"If there was an apology I would go back. I am absolutely committed to the trust."
The trust's chief executive, Lezli Boswell, said the trust was talking to the NTDA about an interim chairman.
The trust's former chairman, Peter Davies, stood down in protest at plans to move some cancer operations from Cornwall to Devon.