Newquay airport charge a 'disadvantage'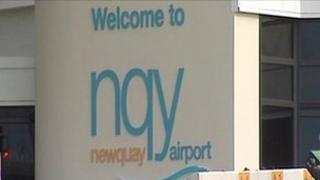 The UK's largest airline has criticised Newquay's airport development fee as putting companies off flying from Cornwall.
Easyjet flew into the airport for the first time on Thursday with a flight from Southend.
Cornwall Council, which runs the airport, said there are no plans to remove the fee at present.
Paul Simmons, from Easyjet, said the £5 fee, per passenger, puts Newquay at a disadvantage.
The fee, on top of Air passenger Duty, was introduced in October 2006 to raise funds to invest in the former military airbase.
Mr Simmons said: "We would hope over time as the airport becomes more vibrant that it will disappear.
"It can't be a long term charge. It puts Newquay at a competitive disadvantage."
'Barrier to development'
Steve Kessell from Visit Newquay said: "You understand the reason for it.
"The bigger carriers will use Newquay. If we're getting feedback that it is being a barrier to development then maybe it is time to look at it again."
The fee was the first of its kind be introduced at a UK airport and is payable when passengers depart from Newquay.
Adam Paynter, the portfolio holder for partnerships at Cornwall Council, which covers the airport, said: "It was a short term measure we brought in when we took it over, when we made it into the civilian airport.
"At the moment we've got no plans to remove the development fee. We do put in a lot of money into the airport to keep it running.
"We haven't had feedback that passengers are being put off. We'll continue to monitor the situation to see how it is going."