Cornwall-based drugs rings members jailed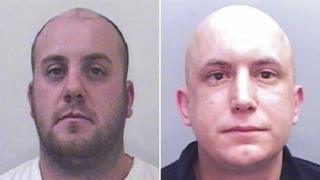 Eighteen members of two drug gangs have been jailed in what Devon and Cornwall Police say is one of the biggest organised crime cases in its history.
The investigation into the two rings, which trafficked drugs into Cornwall from across the country, took three years to complete.
Drugs with an estimated street value of £880,000 were seized.
Ring members were given sentences ranging from six months to 13 years at Truro Crown Court.
Two other members received suspended sentences.
Car park exchanges
The criminals - aged between 22 and 68 - were convicted for operations based in Falmouth and Newquay.
Eighteen were charged with conspiracy to supply Class A drugs, specifically cocaine.
Members were also charged with intent to supply LSD, amphetamine, cannabis and ketamine.
Roy Jones, 33, of River View in Penryn, and Joseph Tucker, 32, from Tamarisk Lane in Newquay, were described as the kingpins by police.
Jones was sentenced to 13 years and Tucker was jailed for 10-and-a-half years.
Of the remaining members, seven were from the Newquay area, five from the Falmouth area and one from Helston in Cornwall.
The rest were from Cheshire, Merseyside, Lancashire, Surrey and Kent.
Large quantities of drugs including cocaine, amphetamine and cannabis were exchanged in neighbourhoods in Newquay, and a pub car park in Truro.
Police also seized about £100,000 of cash in the operation.
'Symbiotic relationship'
Det Con Chris Louca, of Devon and Cornwall Police, said a large amount of evidence was collected - including witness statements, CCTV and mobile phone data - as both rings were investigated at the same time.
He said: "If we didn't investigate both [ringleaders Tucker and Jones] at the same time, all that would have happened was the other team we weren't looking at would have taken control of the supply route and that would have gone undetected.
"They had to be taken on at the same time because they were in an almost symbiotic relationship."
Some of the cocaine seized had a purity level as low as 15%.