Cornwall trading standards warn of 'Cormac copycat gangs'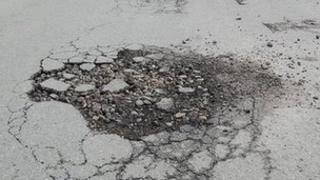 Trading standards are warning people about rogue gangs who claim they work for a council contractor in Cornwall offering discount driveway resurfacing work.
Officers said gangs had claimed they were linked with Cornwall Council's contractor Cormac.
Gary Webster, from trading standards, said rogue gangs had also asked to buy products direct from contractors.
He said over the years a number of people had been targeted.
Mr Webster said: "These gangs will often follow the approved contractors, attempting to associate themselves with the work being carried out on the highways.
"They will often explain that the cost is low because the tarmac and other materials were left over from nearby road surface repairs."
He added that a former police officer had recently alerted them to a suspected gang thought to be operating in the St Kew area of Cornwall.