Adventure International staff strike in Bude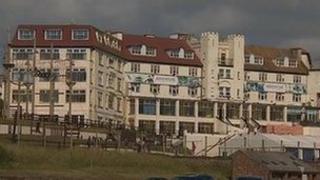 Staff at a residential adventure centre in Cornwall have gone on strike.
More than half of the 74 staff at Adventure International in Bude walked out on Friday, according to the managing director Keith Marshall.
He said the dispute related to a member of staff who had been made redundant.
School parties from Basingstoke, Canterbury, Southampton and Torquay have been affected. Mr Marshall said some pupils were returning home, while others were staying on.
Mr Marshall, who has run the centre - based in a former hotel - for 33 years, said he was trying to negotiate with staff about their return to work.
He said most were seasonal workers rather than long-term employees.
'A little aggrieved'
A meeting between Mr Marshall and staff was believed to be taking place on Monday evening.
Adventure International runs outdoor holidays for school groups and families.
According to its website, it can cater for up to 350 guests.
Activities include surfing, kayaking, caving, abseiling and climbing.
Simon O'Keefe, principal of Canterbury's Stour Academy Trust, which had 33 students at the centre, said he was "a little aggrieved" at the situation.
He said: "I would have expected instructors to give a notice period if they decided to withdraw their labour.
"That would have allowed our children to continue their week as it had been planned."
Preston Primary School, from Torquay in Devon, confirmed a party from the school was one of those affected by the walkout.