Man jailed for murdering his 91-year-old grandfather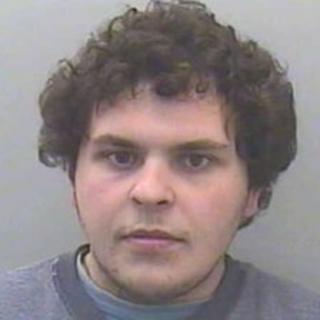 A teenager has been jailed for life for murdering and robbing his "defenceless" 91-year-old grandfather to steal £300.
Stephen Lang was high on a cocktail of drink and drugs when he attacked Thomas Lang at the pensioner's Cornwall home.
His victim survived for three days after the attack in April 2012.
Lang, 20, from Launceston, had admitted manslaughter but was convicted of murder and robbery by a jury at Truro Crown Court. He was jailed for life and told he would serve at least 15 years.
'Waste of space'
A 999 call made by the pensioner from his sheltered accommodation flat in Trecarn Close, Launceston, minutes after his grandson attacked him, was played to the jury.
Thomas Lang told an emergency operator: "My grandson, I don't know for what reason, attacked me."
He said Lang, then 19, grabbed him and "tried to break my neck".
The pensioner was found with multiple fractures at his home. He died three days later in Derriford Hospital, Plymouth.
The court heard Lang tried to shift the blame on his grandfather by saying he attacked his "waste of space" grandson.
Lang, of Queen Elizabeth Road, said his grandfather fell on the floor after he pulled his trolley away from him.
He then panicked and took the cash, he added.
'Truly shocking'
Det Insp Stuart Ellis, of Devon and Cornwall Police, said it was a "terrible crime committed on a defenceless 91-year-old man".
He said: "The crime is made all the more tragic as Stephen Lang appeared to have a close relationship with his grandfather and the incident has had a devastating effect on the whole of the family.
"I cannot begin to understand Stephen Lang's motivation for this crime, but the fact that he could inflict these injuries on his own grandfather is truly shocking.
Mr Lang's granddaughter Wendy Long said after the case: "Who could do that to their own grandfather, a 91-year-old man who had to use a trolley to get around?
"He was just sat in his chair watching Sky Sports, that was his life. He trusted his family.
"It has separated the family straight down the middle. That's the way it is sadly."