NHS Direct pulls out of Cornwall NHS 111 helpline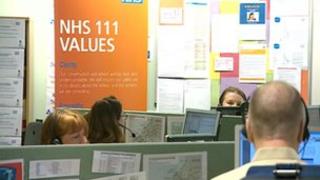 The organisation which was due to operate the new NHS non-emergency service in Cornwall has pulled out of the contract.
NHS 111 - which replaces NHS Direct - is for patients with urgent but not life-threatening symptoms.
Since the roll-out began in other parts of the country in April, it has been beset by problems.
NHS Direct, which was earmarked to run the helpline in Cornwall, said it was financially unsustainable.
It was originally expected to start in the Duchy in May, but after concerns were raised about the quality of the service, it was delayed in order to "learn from the issues in other parts of the country".
The service is being run by a variety of organisations, including private firms and ambulance trusts.
In some areas it has been claimed the high demand has meant thousands of callers have been unable to get through.
There have also been claims that inappropriate referrals by 111 staff had put a strain on ambulances and hospitals.
NHS Direct has apologised to health commissioners NHS Kernow for the delay its decision will cause to the new service starting in Cornwall.
NHS Kernow has yet to comment.
Across the border in Devon, the launch of NHS 111 which was due to start in April, then June, has again been postponed until September.