Graham Ovenden: 'Unduly lenient' sentence to be reviewed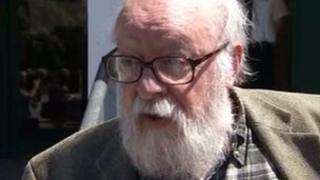 A Cornwall artist, who walked free from court after being convicted of child sex offences, is to have his sentence reviewed after the Attorney General decided it was unduly lenient.
Graham Ovenden, 70, was given a suspended sentence for seven offences earlier this year.
The case has now been referred to the Court of Appeal.
Meanwhile, Ovenden is being investigated for allegedly identifying victims, the BBC has learnt.
'Severely tarnished reputation'
Ovenden, of Bodmin Moor, was convicted at Truro Crown Court in April of six counts of indecency with a child and one of indecent assault.
The offences dated back to the 1970s and 80s.
Passing sentence at Plymouth Crown Court in June, Judge Graham Cottle, described Ovenden's crimes as "truly disgusting".
But, after a long period of consideration, he gave Ovenden a 12-month sentence, suspended for two years.
The judge told the court the sentencing was a difficult exercise.
He said he had to take into account the gravity and impact of Ovenden's crimes, but also his age, health and self-inflicted punishment, such as his now "severely tarnished" reputation.
Artworks removed
The suspended sentence caused anger and has been strongly criticised by child protection groups.
Peter Saunders, of the National Association for People Abused in Childhood, said: "He needs to go to jail if society is to say that this kind of outrageous behaviour is unacceptable."
The office of the Attorney General, Dominic Grieve, said he had referred the case after "having carefully reviewed it".
It said: "The case will, in due course, be heard by three Court of Appeal judges who will decide whether or not the sentence is unduly lenient and whether they should increase the sentence."
Meanwhile, the Metropolitan Police are investigating whether Ovenden identified abuse victims after they gave evidence, the BBC understands.
The law protects victims of sexual offences with lifetime anonymity unless they waive it themselves.
Ovenden has had work exhibited in galleries across the world.
Thirty-four prints by the artist were removed from the Tate Gallery's online collection following his conviction.