Charity ride cyclists killed in A30 lorry collision are named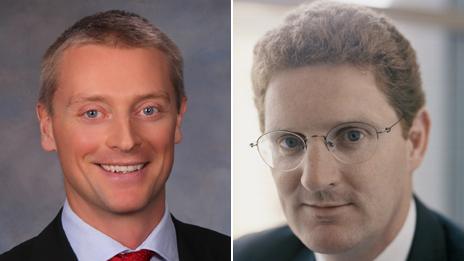 Two cyclists who died after being struck by a lorry during a charity ride from Land's End to John O'Groats have been named.
Andrew McMenigall, 47, and Toby Wallace, 36, were killed in the crash on the A30 in Cornwall on Tuesday.
Mr McMenigall, from Edinburgh, was a senior investment manager with Aberdeen Asset Management. He was married with two daughters.
Colleague Mr Wallace worked in the firm's Philadelphia office.
The 31-year-old driver of the lorry involved in the crash near Summercourt was arrested on suspicion of causing death by dangerous driving.
The man, from Holsworthy in Devon, has been released on bail until October.
The two cyclists were on a charity ride to raise funds for the Kirsten Scott Memorial Trust, which was set up in memory of a colleague who lost her battle with cancer in October 2011.
Mr McMenigall was a triathlete who graduated as an Army officer from Sandhurst before completing an MBA at Edinburgh University.
Mr Wallace was married, and was a senior relationship manager for the company.
He joined the firm in 2000 as a graduate trainee from Jesus College, Cambridge, where he had been on the winning team in the 1998 and 1999 University Boat Races.
In 2012, Mr Wallace was a member of an eight-man crew which rowed across the Atlantic to raise money for the Kirsten Scott Memorial Trust.
Martin Gilbert, chief executive of Aberdeen Asset Management, said: "I knew both Andrew and Toby well.
"They were dedicated and popular members of our senior team. The fact that they died in such tragic circumstances while trying to help others less fortunate tells you much about their selflessness and humanity.
"This is a terrible time for the company. More importantly our thoughts are with the families of Andrew and Toby.
"We will be doing everything we can to support them."
Andrew Scott, Kirsten's brother and one of the trustees of the Kirsten Scott Memorial Trust, said: "We learnt on Tuesday evening of the terrible news that Toby Wallace and Andrew McMenigall had both died in a cycling accident.
"Their fund raising efforts have meant so much in helping to establish a trust in Kirsten's name to support young people under 26.
"We are all devastated to learn of this dreadful accident. Our thoughts and prayers are with Toby and Andrew's families and friends at this sad time."
Gavin Calder, Edinburgh Triathletes president, said: "I am sure that I speak for all in the triathlon and cycling communities in registering my shock and sadness at the tragic and untimely death of our fellow ET Andrew McMenigall on the Cornish roads.
"Andrew was a true clubman, giving his time freely to bring on triathletes of every standard at all times of the day. He was a giant of the club.
"Andrew loved his cycling and I know that he really enjoyed the last few months training for his Land's End to John O Groats challenge.
"Typically he was doing it for the benefit of others: raising money for the Kirsten Scott Memorial Fund.
"He was a dedicated vice-president and all round good guy and I know that his loss will be sorely felt by all those connected to the Edinburgh Triathletes.
"Our thoughts and prayers are with Andrew's family at this time."
The road was closed for seven-and-a-half hours after the crash.
Mike Naylor, who was at a garage near the scene, told the BBC: "I could see someone in the ditch.
"A lot of members of the public came out of their cars and were running backwards and forwards, and there was someone giving CPR."
Police in Cornwall have appealed for any witnesses to the crash to come forward.
Related Internet Links
The BBC is not responsible for the content of external sites.