Isles of Scilly yacht death inquiry overseen by IPCC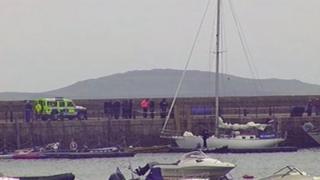 An investigation into the death of a yacht skipper during a drugs raid is being overseen by the Independent Police Complaints Commission (IPCC).
The man fell from the mast of the Windrose after it was raided by the Border Force in the Isles of Scilly.
Drugs with a street value of up to £20m were found on the yacht, on 17 June.
The IPCC said its focus would be on the events leading up to the man's death and the contact between him and UK Border Force officers.
The unnamed skipper, who is believed to be a 62-year-old Dutch national, fell from the ship's mast during the raid of the 11m (36ft) yacht.
'Risk assessments'
Windrose had been towed to the islands the previous day by the RNLI, after the skipper reported he was suffering from fatigue and his boat's rigging was failing.
After the accident the man was airlifted to the Royal Cornwall Hospital in Truro, where he later died from his injures.
The IPCC said the cause of the man's death had not been established but information provided by the Border Force suggested he fell or jumped from the boat's mast.
Following an assessment of the information the force provided, the IPCC said it had decided to oversee an externally-managed investigation by Devon and Cornwall Police.
IPCC commissioner Jennifer Izekor, said it would examine the events leading up to the skipper's death to ensure all relevant policies and procedures including adequate risk assessments were followed by the Border Force.
However, she said the IPCC was not investigating any issues relating to the "substances" retrieved from the yacht.