Sat-navs directing drivers wrong way down A30 slip road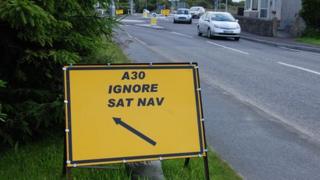 Drivers in Cornwall are risking a serious accident by ignoring signs and following sat-navs directing them the wrong way down a dual carriageway slip road, according to a councillor.
A new roundabout and one-way system at Scorrier, near Redruth, has confused some navigation systems.
The council has put up signs telling drivers to "ignore their sat-navs".
Scorrier councillor Mark Kaczmarek said some drivers were ignoring as many as nine signs warning of the new system.
Instead of turning left and going over the bridge to join the A30 eastbound, some sat-navs have been sending cars straight on at the roundabout, heading down a one-way slipway in the wrong direction.
Unusual problem
Mr Kaczmarek said: "It is a real concern. One day the pub landlord counted 100 vehicles turning around.
"Only yesterday an articulated lorry tried driving the wrong way, and they are turning around 100 yards away from the main A30.
"Traffic is coming off the A30 and on to the slip way at around 70 miles an hour. It's not going to be a pleasant scene if there's an accident."
The highways department of Cornwall Council said it was an unusual problem.
The local authority has installed a new sign highlighting the one-way system and several temporary signs telling drivers to "ignore their sat navs and turn left".
Peter Tatlow, a senior engineer with Cormac, said: "If people are not looking at the signs, it's difficult to know what to do.
"It's a real worry that someone is going to miss the 'no entry' sign as well."