Rogue hire boss Jack Harvey loses £2.2m fight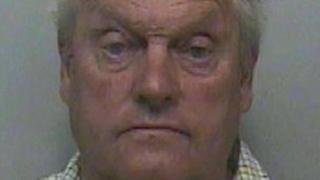 Police have welcomed a court judgement forcing a rogue plant hire boss to pay the full £2.2m ordered to be confiscated from him.
In 2010, Jack Harvey, 71, from Polwhele in Cornwall, was jailed for intimidating rivals and setting fire to their equipment.
Two years later a judge imposed a confiscation order which Harvey has been fighting.
The Court of Appeal in London earlier this week dismissed his claim.
Lost contract
Devon and Cornwall Police said that Harvey had paid £1.13m so far towards the confiscation order.
But as he had not paid any further amounts while the appeal was pending he had to pay an additional interest payment of £20,000.
Harvey was ordered to pay an additional £7,100 costs for the appeal.
Det Insp Claire Stalley said after the case: "We're very satisfied with this latest outcome, it sends a clear message to criminals and would-be criminals that crime doesn't pay.
"Those who choose to involve themselves in criminal activity should be under no doubt, we will go after their assets and fiercely contest any efforts to minimise confiscation."
In 2010, Harvey was sentenced to 12 years, which was reduced on appeal to nine-and-a-half years.
He was also found guilty of receiving stolen goods.
Harvey's trial was told he had run a plant hire business in Truro for 30 years, but, after losing a major road repair contract, he set fire to seven pieces of plant machinery owned by the firms that won the work.
The driver of one lorry was asleep in the cab of his lorry when it was set alight.