Newquay Zoo wildebeest calf hand-reared by staff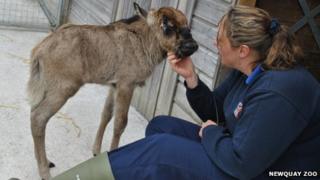 A wildebeest calf, whose species is believed to be extinct in the wild, is being hand-reared at a zoo in Cornwall after she was abandoned by her mother.
Poppy, who was born on 23 June at Newquay Zoo, was being hand-reared by two senior keepers, staff said.
She would be fed four times a day for up to 10 weeks, they added.
There are believed to be several thousand black wildebeest living in game parks in South Africa, but none left in the wild, a zoo spokesman said.
He added the species was hunted to near extinction in the late 19th Century. There are two species of wildebeest - black (Connochaetes gnou) and blue (Connochaetes taurinus) which still roam wild in Africa.
Head of animal collections John Meek said they noticed the calf was being abandoned after "quite a few hours".
He said: "Mum didn't hurt her in anyway, she just didn't feed her.
"Of course we had to stand in when she was getting hungry."
Mr Meek added it was that female's first calf.
Since 2008, four black wildebeest calves - also known as white tailed gnu - have been born at the zoo.