Unwanted holiday food scheme launched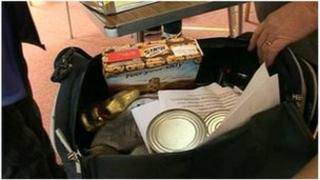 Owners of the 23,000 holiday and second homes in Cornwall have been asked to give left over holiday groceries to food banks, by a local councillor.
Joyce Duffin wants visitors to give away their unopened food and left over toiletries and not leave them in the accommodation to be binned.
Mrs Duffin said toiletries and any good quality clothes and bedding could also be donated.
Her idea has been welcomed by food banks and tourism chiefs in Cornwall.
Mrs Duffin, the councillor for Mount Hawke and Portreath, said: "In many cases a cleaning company goes in and throws everything which has been left behind into black bags.
"It is surely wrong that they are just thrown away when they could be given to local food banks or to the homeless charities."
Food banks and charity kitchens throughout Cornwall, along with the Mission to Seafarers, and hostels such as St Petroc's were all backing the scheme, the councillor said.
Malcolm Bell from Visit Cornwall, described the scheme as a "win-win initiative".
He said: "I am sure this initiative will be welcomed as they would want the surplus foods they cannot take home being used to help local communities, rather than go to waste."
Mrs Duffin said she would also approach hotels and guest houses to encourage them to donate bedding and towels when they were replacing them.