St Martin's Road reopens after Looe landslip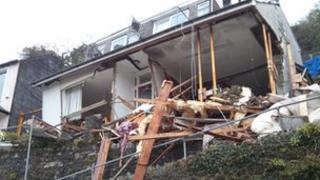 A main road in Cornwall that has been closed since a fatal landslip nearly four months ago has reopened.
Susan Norman, 68, died when Veronica Flats collapsed in a landslide in Looe, following heavy rain in March.
Cornwall Council said the rock under St Martin's Road had been strengthened with concrete piles and two-way traffic would now be controlled by lights.
"At last Looe is truly open for business," Councillor Bert Biscoe said.
The difficulties caused by the closure of one the town's main roads had been borne with "patience and fortitude", he said.