Cornwall child poverty costs more than inner cities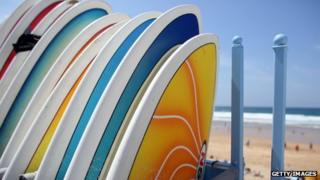 Child poverty in Cornwall is costing about £200m a year, more than Haringey in east London, Newcastle upon Tyne and Cardiff, says a report.
The Child Poverty Action Group's (CPAG) worked out the extra costs to the NHS and schools, lost earnings and lost tax as a result of people in poverty.
It called for a "strong local child poverty strategy" from authorities.
Cornwall's councillor for children said the figures showed the reality behind the county's "perfect" image.
Lower wages
Cornwall came 21st out of 407 UK authorities in a league table of the cost of child poverty, with the vast majority of the top 20 being major urban areas, topped by Birmingham.
Figures from CPAG showed Cornwall had 18,068 children below the poverty line and costs of £196m each year.
CPAG defined people in poverty as being unable to "obtain the type of diet, participate in the activities and have the living conditions and amenities which are customary, or at least widely encouraged and approved, in the societies in which they belong".
Alison Grantham, chief executive of CPAG said a "large part" of the costs of child poverty landed on council services.
She said: "We need a strong local child poverty strategy so that children growing up in the area have a better future.
"And so that we avoid having to spend on failure and can invest everyone's council tax contributions in more positive ways."
Andrew Wallis, Cornwall councillor for children and young people, said: "Behind the picture postcard image that Cornwall is perfect is the reality that faces an urban metropolitan area in a big city.
"The reality is that people in Cornwall have less to spend.
"In rural areas you need your own transport, there is usually no mains gas so you rely on expensive LPG or oil.
"Wages are lower than the rest of the country, with a lot of seasonal work, and yet house prices are among the highest."
Cornwall Council's services are facing cuts of nearly £5m this year in addition to £30m of cuts as part of the authority's four-year budget strategy.
But the council has set itself targets to reduce child poverty by 2020.
They include reducing the number of young people not in work or training and improving economic output so that its gross domestic product is above 75% of the average for the European Union.