Porthleven danger warning over beach webcam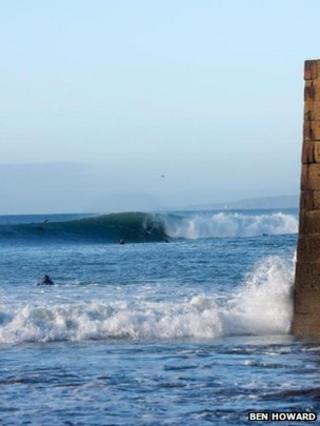 Plans for webcam at a "dangerous" Cornish surfing spot have raised concerns about safety.
Porthleven Town Council is proposing two webcams to show the beach and harbour to tourists.
Campaigners fear that it will attract those unaware of the dangers of a shallow reef and have started a petition against it.
The town council said the cameras would point at the beach and the harbour, not the reef.
About 40 local surfers attended a council meeting to voice their concerns after it emerged that webcams were being considered.
A petition has been started with nearly 200 signatures.
Three years ago local surfer Johno Mellish received head injuries after surfing the reef.
And one of Britain's top surfers, Russell Winter, was airlifted to hospital after breaking his arm while surfing at Porthleven.
Councillor Barbara Powell, of the council's webcam working group, admitted it was "a dangerous spot to surf", but said: "It's a fabulous area and we want to promote it to tourists, but we are going to avoid any webcam on the surf.
"It is a very small area that they can surf in and they don't want anyone else on their playground.
"We have been aware for some time that they don't want their surfing shown."
Local surfer Adam Hendra, 23, said surfers were not being selfish about the wave.
"With a 24-hour live feed the wave would be over overcrowded, and that's a safety issue," he said.
"I have helped bring many friends out of the water after they were injured."
The RNLI warns on its website: "Only experienced surfers should use this break."
A spokeswoman said: "This is a hard core surfing area, if you fall off your board here it is going to hurt when you meet the granite reef.
"You need to be experienced and to understand the dangers and what you are doing."