Shut toilets concern tourism bosses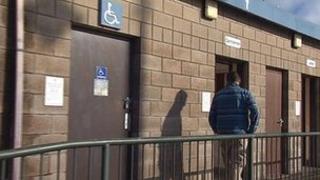 Closing public toilets may put some holidaymakers off Cornwall for good, tourism bosses have warned.
More than 30 public toilets in the county - about 10% - are closed despite the start of the peak tourist season.
Last year, Cornwall Council announced it had been forced to review its "non-statutory" services because of funding cuts.
Parish councils have taken on the maintenance and cleaning of some public toilets, with some charging users.
Other public conveniences, like services in Boscastle and Marazion, are charging users, while others may only open at weekends.
Malcolm Bell, the head of Visit Cornwall, said: "If visitors are really annoyed about facilities, they won't come back.
"They will bad-mouth us and cause us lost business in the long term."
Simon Tregoning, of Classic Cottages, said: "People will judge Cornwall on how it looks.
"If we get a reputation for being rough around the edges it will get out."
There are almost 300 public toilets across the county, which was costing Cornwall Council more than £1m a year to clean.
Some local councils - including Callington, Deviock, Downderry, Lerryn, Launceston and Seaton - have already taken on the maintenance and cleaning of their public toilets.
Cornwall Council said it was still in negotiations with other town and parish councils about the running of public toilets.
Edwina Hannaford, the councillor responsible for public toilets, said: "We do acknowledge how important the public toilets are.
"Some have closed through duplication, or they were not fit for purpose, and there are some that we are still in negotiations over.
"We want to keep as many open as possible as well as making the savings we have to make."