Marazion drowned pony 'swam to its death'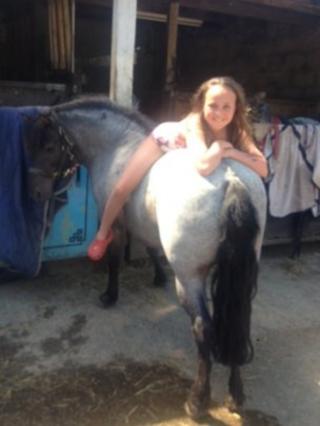 A pony has drowned in the sea off Marazion in West Cornwall, Falmouth Coastguard has confirmed.
The pony was being ridden into the water but when its rider got off it ran further into the sea.
Penzance coastguard rescue team and a lifeguard on Marazion beach tried rescue the pony but they were unable to save it.
Falmouth Coastguard Ken Bazeley confirmed the pony's body was recovered by the owners and local contractors.
'Loved water'
Bonnie Reynolds, the pony's owner, said: "My daughter is absolutely devastated. She is exhausted, and hasn't slept properly.
"As you can imagine, being on the shoreline watching your pony swimming away to its death is just horrific."
Mrs Reynolds said that she had been in touch with the pony's previous owners who said that he had loved the water.
She said: "What horses do when they go out of their depth, if they haven't got anyone to turn them, they will just swim in a straight line as they haven't got the movement in their legs, without ground, to turn themselves.
"I think it was a terrible accident. There were no people water skiing, nothing that would make him panic."