Visitors warned of more rip currents in Cornwall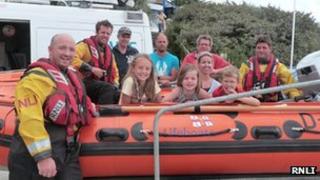 Beach-goers have been warned of dangerous rip currents in Cornwall which caused more than 50 people to be rescued in a single day.
On Tuesday 15 people were rescued in Perranporth, another 15 in Constantine, and a further 15 in Newquay.
Three people from Mawgan Porth and seven from Rock also had to be rescued.
The RNLI said low tides combined with a building swell "increased the strength and intensity of the existing rip currents creating flash rips".
Tamsin Thomas, from the RNLI, said: "These things can change very quickly.
"If you're a visitor, you just want to get into the sea and have fun. You probably don't know that in a moment conditions can change."
She said visitors to beaches must seek the advice of lifeguards and local surfers to find out more about the conditions.
Sand message rescue
Seven people were rescued near Rock after writing a message in sand calling for help on Tuesday.
The four adults and three children, who were on holiday from Kent, had sailed to a cove but were trapped by a 2m (6ft) onshore swell.
They wrote "send for help" in the sand, which was spotted by a cliff-top walker who called emergency services
Tim Humphrey, one of those rescued from Rock, said: "We went to a little cove we had been to previously. There was a bit of swell when we arrived but no issues.
"We had our picnic and explored. In that time the tide was coming in but the sea conditions also became angry and confused.
"We had to take the decision, for safety, that it was not a sensible move to head back into the surf.
"The tide came up pretty quickly. It was a very serious situation. It wasn't a life-threatening situation, thank goodness.
"We're eternally grateful to the RNLI and coastguards and the very observant walkers that noticed us from the top of the cove."