More staff and trolley bays for Royal Cornwall Hospital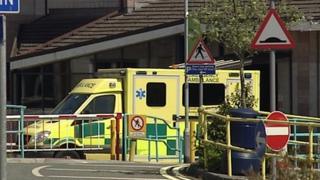 Extra staffing and nine new trolley bays will have a "significant impact" on ambulance waiting times, the Royal Cornwall Hospitals Trust has said.
The trust incurred fines on 213 occasions in June for keeping ambulance crews waiting more than 30 minutes to hand over patients.
Targets for treating emergencies within four hours and re-booking cancelled operations were also missed.
The trust said it was treating more patients than expected.
The first phase of a multi-million pound extension is due to open later at the Royal Cornwall Hospital in Truro.
'Outgrown capacity'
Jo Gibbs, the trust's chief operating officer, said it was "frequently seeing in excess of 250 patients a day" - a larger number than expected for the time of year.
"The emergency department has outgrown its capacity since it was built more than 15 years ago and we are about to open the first phase of a multimillion-pound extension," she said.
"This will add an additional nine trolley bays, allowing the team to care for a greater number of patients.
"Ahead of the summer, extra staff have been recruited and, together with the extension, this is expected to have a significant impact on reducing ambulance turnaround times."
About a fifth of the operations cancelled this financial year were not re-booked within the 28 days required by national guidelines, the trust's board was told on Thursday, with "operational pressures and outbreaks of norovirus" cited as contributory factors.
The ambulance waiting times last month were slightly lower than March, when 300 ambulances had to wait more than half an hour - the highest figure since data recording began two years ago.
At the time Graham Webster, one of the trust's public governors, said Cornwall's acute hospitals had "gone into crisis".
The board meeting was chaired by new interim chair Angela Ballatti, who was appointed in June.
Ms Ballatti said while the circumstances of her appointment were not "ideal" she was delighted to take on the role, and would stay in post until January 2015.