River Par pollutant kills more than 1,000 fish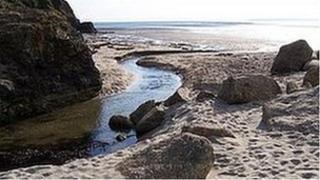 More than 1,000 fish have been killed by a pollutant in a four-mile (7km) stretch of river in Cornwall, the Environment Agency has said.
Sea trout, salmon and flounders are among the fish killed in the River Par.
The agency said it was focusing on a tributary and hoped samples would identify the type and source of the pollution, which was found on Friday.
Cornwall Council has advised people not to enter the water, including at nearby Par Beach.
The authority said bathing water could be affected and the warning would remain in place until test results had returned.
A spokesman from the Environment Agency said: "While the pollutant is highly toxic to fish, it doesn't appear to have affected the invertebrates and micro-organisms in the river."