Cornwall Council parking charges 'too high'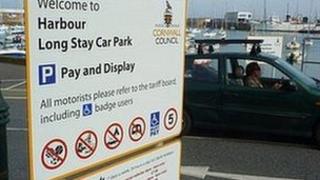 A council identified as having one of the biggest surpluses in the country from parking charges and fines says it is trying to cut "too high" fees.
The 359 councils across England had a total current account surplus of £565m from on and off-street parking schemes in 2011-12, the RAC Foundation said.
Cornwall came eighth, with a £7.9m surplus.
A senior councillor said the authority wanted to "make sure" it was charging a "fair amount".
'No zero charges'
Alex Folkes, cabinet member for finance and resources, said: "Parking charges in Cornwall are too high."
He said the Liberal Democrat and Independent-controlled authority had already reduced season ticket charges and was testing cuts in pay and display charges.
He said: "We think we can maintain income for the council but at the same time charge less for our drivers.
"That means greater footfall for our high street shops and that's a win for everyone."
He said the council's £526m budget included £14m a year on services such as cutting hedges and street lighting and £24m on roads and money from parking helped pay for those.
He said: "We can't afford to slash all parking prices to zero. We can't afford to make no net income from parking.
"Without the income from parking, the council could not afford to provide the services that the people of Cornwall and our visitors rely on.
"We would have to cut these services and put council tax up."
Philip Gomm from the RAC Foundation said: "We are not naive about this.
"Where it's appropriate to set charges to manage traffic, then so be it, but don't set out as a council to make money from this."