Gynaecologist Rob Jones: GMC's investigation welcomed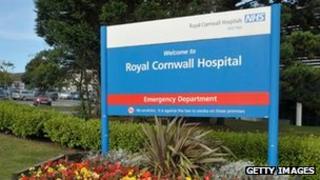 The solicitor representing former patients of surgeon Rob Jones has welcomed news of more investigations.
Eight reviews of Mr Jones' work were carried out before the current management of the trust took action.
The Royal Cornwall Hospitals Trust said the General Medical Council would conduct a "preliminary investigation" into its historical decision making.
The cases of more than 100 obstetrics and gynaecology patients treated by Mr Jones have now been reviewed.
As a result, it showed 52 suffered complications and a further 57 were recalled for assessment.
'Poor communication'
Solicitor Mike Bird said patients would welcome the "independent assessment".
He said: "We don't know the full terms of the investigation. I think the 100-odd women who I am representing and the rest who have come forward are going to welcome any kind of independent assessment or scrutiny."
The GMC has not commented on its investigation.
Mr Jones had been the subject of eight reviews and repeated complaints during his 12-year clinical practice.
In February, it emerged reviews of his work since 2000 had cited failings including "poor communication" and "inadequate handover between successive managers".
Doctor's resignation
Mr Jones delivered Prime Minister David Cameron's youngest child by Caesarean section in 2010.
On Saturday, the trust announced the most senior consultant at the hospital had resigned from the board.
The trust said medical director Dr Paul Upton quit after the General Medical Council (GMC) began an inquiry into the handling of the case involving Mr Jones.
Dr Upton is the fifth member of the hospital's board to resign since June.
The trust said Dr Upton would continue his clinical and other duties.