Penzance 1950s shop helps dementia patients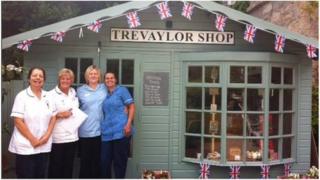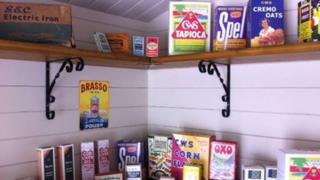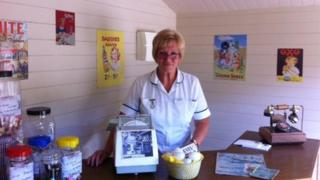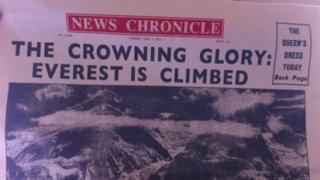 A 1950s-style shop is helping support patients with dementia at a Penzance care home.
The shop at Trevaylor Manor has been designed to look and feel like one from that era.
Items include vintage packaging, ration books, old coins, sweets and even broken biscuits for three shillings.
The home says although nothing in the shop is for sale, it stimulates many nostalgic conversations among its patients.
'Swap memories'
Project manager Sue Godfrey got the idea from a conference last year on the importance of reminiscing for dementia patients.
She said: "Most people with dementia have short-term memory problems. So while they may not remember what happened yesterday, or even this morning, very often their long-term memory is intact.
"We come into the shop with a group of residents and they swap memories."
She said that the home was now planning a 1950s pub.
"The amount of laughter that you hear is just amazing," she said.
"It has such a positive effect on them because they become the teller instead of being told."
The Alzheimer's Society said Trevaylor Manor shop was an "innovative and stimulating" way of improving the quality of life for people with dementia.
"The 1950's shop is a good example of reminiscence therapy at work, using items from the past to trigger conversations and to help people with dementia to access older memories," society spokesman George McNamara said.
"It is important to remember that people with dementia have different interests and hobbies and so care homes need to make sure they can offer a varied and interactive living environment with different activities."