Submerged disability surf school truck targeted by looters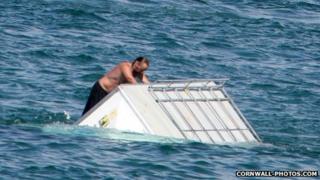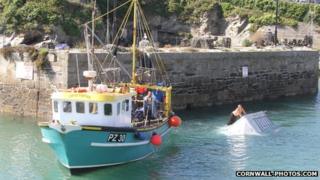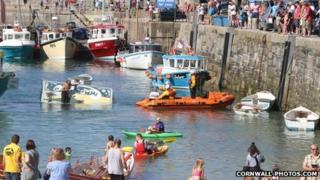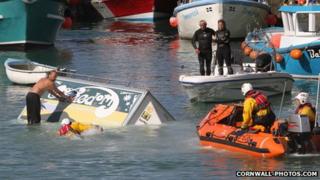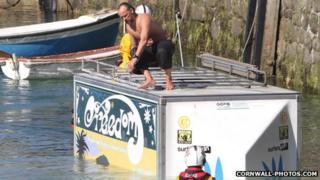 Looters have targeted a stricken disability surf school truck that was submerged by the incoming tide.
The Freedom Surf vehicle had become stuck in the sand after being blocked in by the public in Newquay.
Used by a not-for-profit surf school for disabled children it was decked out with hundreds of pounds of equipment.
But before it could be recovered, people broke in and stole £2,000 worth of wetsuits, tools, clothes and surfboards.
Mark Hill, director of Freedom Surf, said the converted Land Rover was now a "write off" after the looters broke in through the disabled access door on the back of the vehicle.
The 37-year-old is now worried the company will not be able to operate.
'Just a shell'
The looters accessed the still submerged Land Rover by paddling out on surfboards or snorkelling.
Mr Hill, a father-of-one, was alerted to what was happening by the coastguard, who tried to help protect the vehicle late on Wednesday night.
"They trashed the Land Rover and emptied all the equipment out, it's now just a shell," he said.
"It's opportunists, unfortunately, you get them everywhere. Anyone that actually knows me wouldn't dream of doing that.
"They weren't stealing from me, they were stealing from people less fortunate than themselves, from disabled children and adults."
Police were called to the scene but Mr Hill said the looters had already paddled back to the beach and left the area.
The vehicle became stranded in sand at Towan beach after an incident earlier in the afternoon.
'Like a torpedo'
Mr Hill was moving the Land Rover and trailer from Great Western beach to the vehicle exit point on Towan beach.
But he became stuck after slowing the vehicle down because of a large amount of people on the beach.
Despite having equipment onboard to help recover the vehicle, Mr Hill said he was unable to use this because people swarmed around the Land Rover.
"I was cut off by people, not the tide. We just couldn't move," he said.
"A child sat on the front winch on the car and if I deployed the winch, it has a ground anchor on it and if that slipped it could decapitate somebody.
"The ladders also couldn't be put down as sometimes they flick out from under the wheels and fire like a torpedo.
"But the more we shouted at people to move, the more they gathered around."
He added: "We normally have lessons booked throughout the summer, but now Freedom Surf is in jeopardy."
Devon and Cornwall Police said that no-one has been arrested in connection with the looting.
The force is appealing for any witnesses to contact them.