Eden Project for China plan by co-founder Sir Tim Smit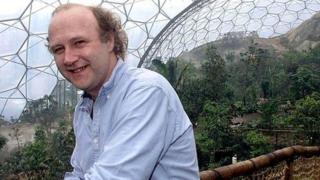 The co-founder of the Eden Project, Sir Tim Smit, is to concentrate on overseas projects after stepping aside as its chief executive.
He said he was going to China where he hoped to "put pen to paper on a big Eden Project" for the country.
Visitor numbers have fallen at the England attraction and earlier this year Eden asked for government funding to help it through a "difficult time".
Sir Tim said his move was a "decision jointly arrived at."
'Supremely confident'
He said: "There's a point where you have to look at the horizon and where you're going next.
"I am going to China next week to, I hope, put pen to paper on a big Eden Project in China.
"We also want to build our education facilities here [in Cornwall].
"A lot of people forget that we're an educational charity. The demand for that education is now coming out of China who are really hungry for green technology."
Eden executive director Gaynor Coley is also due to leave for a new job at the Royal Botanic Gardens in Kew.
Eden employs more than 400 staff at the iconic biomes near St Blazey.
It has twice been voted the best UK leisure attraction by the public in the British Travel Awards, but last year annual visitor numbers dropped below one million for the first time.
Asked if he believed the Eden Project in Cornwall would still be there in 20 years time, Mr Smit said he was "supremely confident".