Seven charged in Crown Currency Exchange case in Hayle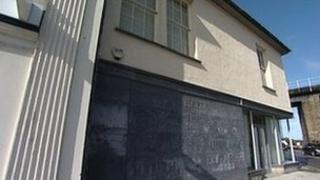 Seven people have been charged with offences in connection with a currency exchange company which collapsed owing millions of pounds, police say.
Crown Currency, in Hayle, Cornwall, collapsed in 2010, with debts of £20m.
Former directors Peter Benstead, 70, of Penzance, and Edward James, 73, of Glastonbury, have been charged with fraud and false accounting.
Charges for the five others include fraud, theft and perverting the course of justice. All seven are on bail.
Liquidation 'ongoing'
Before its collapse in October 2010, Crown Currency was one of the country's largest personal currency exchange businesses.
Established in 2004, it allowed individuals and business customers to pre-order foreign exchange at a set price, up to a year in advance.
It provided money in 80 currencies, as well as travellers' cheques and money transfers, sometimes for people to buy property.
About 13,000 people are believed to have lost money when it went into administration with debts of £20m and assets of just £3m.
Customers were owed amounts ranging from £100 to £100,000.
The charges came after a two-and three-quarter-year-long investigation, Devon and Cornwall Police said.
Mr Benstead, 70, has been charged with fraudulent trading, money laundering, perverting the course of justice, theft, deception and false accounting.
Former mayor of Glastonbury Mr James, 73, was also charged with fraudulent trading and false accounting, police said.
The five others have also been charged with offences relating to the collapse of the company.
Police said some of the charges were linked to two other businesses also in administration: Crown Currency Exchange's parent company, Crown Holdings Ltd; and cash-for-gold company Mayfair and Grant.
All seven defendants are due to appear before magistrates in Westminster on 17 September.
Administrators said Crown Currency Exchange was likely to still be going through the liquidation process until the end of 2014 at the earliest.