Royal Cornwall Hospital death: Husband still waiting for report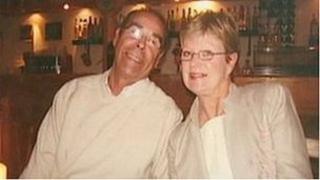 A pensioner whose wife died without him at her bedside said he is appalled a report into what happened has not been published five months on.
Trevor Law wants to know why he was stopped from seeing his wife Janet at the Royal Cornwall Hospital during an outbreak of Norovirus in March.
He was initially told the report would take less than two months to complete.
The Royal Cornwall Hospitals Trust (RCHT) said the report tackles "complex issues" and will be released soon.
Mr Law, from Connor Downs, near Hayle, said he was "disgusted" when he phoned the hospital earlier this week and was told it could take another four weeks before the report is ready.
He has been offered a meeting with hospital bosses but said he wants to read the report.
Mr Law also has concerns about the treatment his wife received at the hospital and the cause of her "sudden" death.
"I should have had closure by now, there is no doubt about it, I should have had closure," he said.
"[The report] is going to help me to find out and read that I was right, and all these people who are paid a lot of money should take notice of the patient and their relations and say, 'yeah, maybe they are right'."
'Sincere condolences'
Mrs Law, who had ovarian cancer, was admitted into the RCHT on 22 March.
The next day the family was told they could not see her because of an outbreak of Norovirus.
Mrs Law died the following morning and Mr Law said he did not have enough time to get to the hospital.
It is understood the report will detail changes that are being made to the way the hospital manages visits during an outbreak of Norovirus to clarify rules about visiting patients.
The hospitals Trust has expressed its "sincere condolences" to Mr Law.
RCHT nurse executive Andrew MacCallum said: "We are nearing completion of the detailed investigation into the concerns Mr Law has raised.
"Given their complexity and the different agencies involved this has taken longer than we would have wanted it to.
"We will be responding to Mr Law very shortly and in the meantime, I would again extend our offer to meet with him."