Croyde beach rip currents spark rescue of 44 people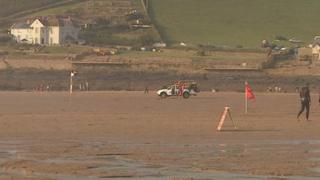 Forty-four people were plucked from the sea off Croyde beach in north Devon over the bank holiday weekend.
The RNLI said many of those rescued were outside the safe flagged areas when they were caught in rip currents.
Inexperienced body boarders and swimmers made up the majority of those rescued, a lifeguard spokesman said.
A rip current is a narrow current of water which runs perpendicular to the shoreline out to sea.
The RNLI said that across Devon and Cornwall more than 100 people were rescued from the sea - most from the north coasts of both counties where surf had created some "difficult conditions".