Royal Cornwall Hospital chairman 'breached dignity policy'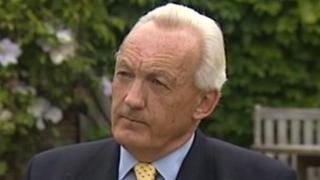 The former chairman of the Royal Cornwall Hospitals Trust (RCHT) was in breach of its dignity at work policy, two reports have claimed.
Martin Watts resigned from the RCHT in June after investigations into complaints were completed.
One related to an incident where Mr Watts became angry with a nurse in charge of his mother-in-law's care.
Mr Watts said he welcomed the reports' release and the chance to "openly question the integrity" of them.
Mr Watts admitted he had been upset to find what he described as "poor care" for his 95-year-old mother-in-law who had recently undergone emergency surgery.
He said it was in stark contrast to the very good care she had received earlier and the care he knew hospital staff usually provided.
A witness told the report he was "aggressive and threatening" and the nurse was described as "absolutely distraught...and concerned for (their) job".
A second report heard Mr Watts was accused of "on two occasions taking hold of the member of staff by (their) arms", "causing intimidation by not respecting personal boundaries and "being unfairly/unduly critical of aspects of performance".
Mr Watts admitted he challenged a nurse over what he described as poor care given to his mother-in-law but claimed the second report was fundamentally flawed and omitted important evidence.
'Good candidates'
The two reports, released in response to a Freedom of Information request from BBC Radio Cornwall, concluded he was in breach of the Trust's dignity at work policy.
The recommendations from the reports included "remedial action that would allow the chairman to continue in post" or to "review the chairman's appointment".
However Mr Watts claimed he was not given any course of remedial action to enable him to stay on as chairman.
Mr Watts said at the time of his resignation in June he had been the victim of an "injudicious judgment" and that he had "resigned under pressure".
Three other non-executive members of the board also resigned soon after.
Mr Watts has called for further debate on how the investigation was handled.
Following the release of the reports, Mr Watts said: "The allegations and the independent investigation reports can now be publicly considered.
"This is something I welcome as it gives both myself and others the opportunity to openly question the integrity of the reports and the actions taken by two senior NHS chief executives in full."
In a statement Lezli Boswell, the chief executive of the RCHT, said: "Two independent reports upheld complaints against Martin Watts under the Trust's dignity at work policy, following which he resigned from his post as chairman.
"The Trust has a new chairman - Angela Ballatti - who is working with the NHS Trust Development Authority on the recruitment of good candidates to the vacant non-executive roles.
"Our priority remains firmly focussed on maintaining and continually improving patient care."