Helicopters rescues two Isles of Scilly divers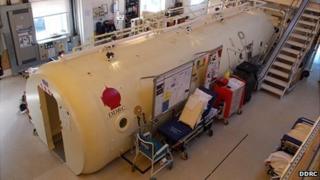 Two divers have been rescued after getting into difficulties off the Isles of Scilly.
A dive boat raised the alarm just before 10:00 BST when one of its divers lost consciousness after surfacing.
A helicopter from RNAS Culdrose flew the man to the Royal Cornwall Hospital in Truro, before returning for a second diver who had made a rapid ascent.
He has been flown to the hyperbaric chamber at the Diving Diseases Research Centre (DDRC) in Plymouth.
His condition is not known.
The DDRC is a medical research and training charity that uses a hyperbaric chamber to treat divers suffering from the bends (decompression sickness) with oxygen.
It is caused by dissolved gases forming bubbles inside the body and can, on occasion, be fatal.
Symptoms of the bends include joint pain in the arms and legs, rashes and itching of the skin.